Dakar Tag 2 Walkner Platz 1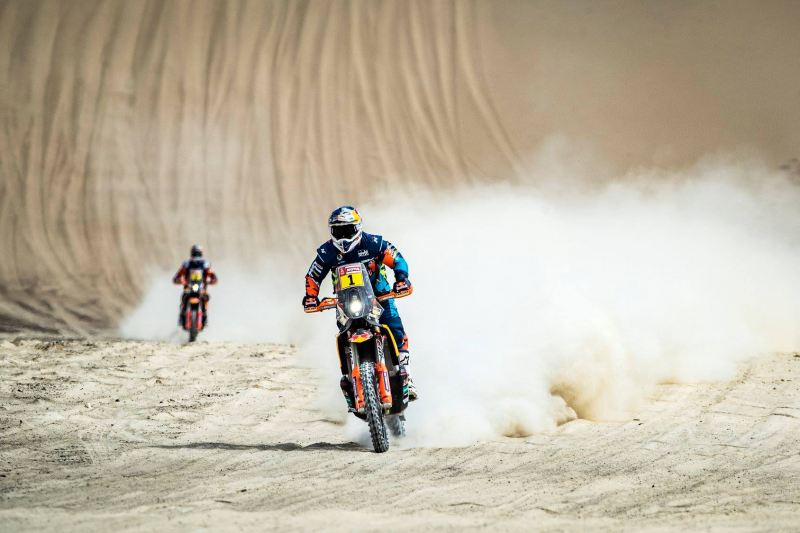 Matthias Walkner übernimmt bei hohem Tempo kurzerhand die Führung. Annähernd zeitgleich überquert der Salzburger, mit dem Amerikaner Ricky Brabec, die Etappen Ziellinie. Brabec spricht von einem strategischen Manöver in letzter Sekunde, Walkner den Vortritt zu lassen. Die weiteren 10 Topgesetzten Favoriten lauern alle innerhalb von 10 Minuten Rückstand auf den Leader.
Matthias Walkner: "That was a long and really, really fast stage. It was hard to judge the pace of the riders in front, so early on I decided to push and give my best. It was enough to set the fastest time, which is great but I'm not too keen on stages like that – two or three in a year is enough for me. Crossing the tracks left by the cars on such a tricky stage can be quite daunting sometimes and I'm glad to reach the finish safely."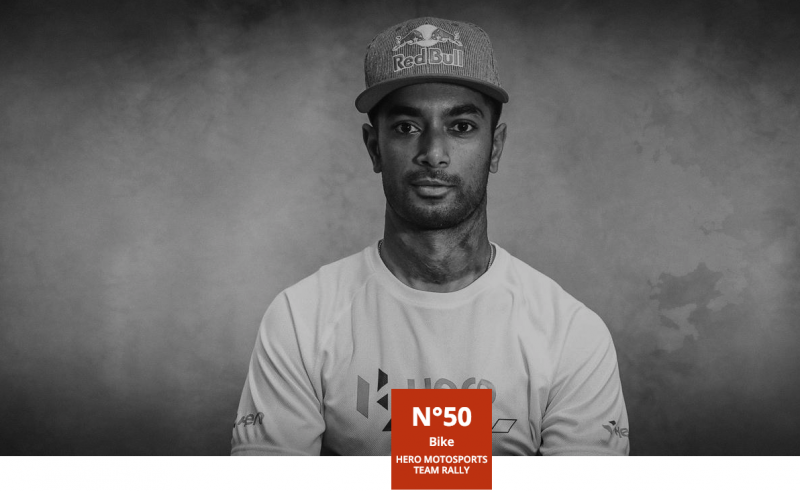 Chunchunguppe Shivashankar Santosh aus Bangalore Indien, oder auch SC Santosh genannt, ist mit Platz 34 im starken Mittelfeld der heutigen Etappe und hat nur 41 Minuten Rückstand auf die Nummer eins. Letztes Jahr holte er sich auf dem indischen Werksmotorrad "Speedbrain Hero" den Gesamtplatz 34 souverän ab. Dieses Jahr strebt er die Top 20 an. 
Wir wünschen ihm "shubhakaamanaen", Viel Glück.
Provisional Results Stage Two – 2019 Dakar Rally

1. Matthias Walkner (AUT), KTM, 3:23:57 
2. Ricky Brabec (USA), Honda, 3:24:19 +0:22 
3. Joan Barreda (ESP), Honda, 3:25:38 +1:41 
4. Toby Price (AUS), KTM, 3:27:03 +3:06 
5. Pablo Quintanilla (CHI), Husqvarna, 3:27:21 +3:24 
Other KTM
6. Sam Sunderland (GBR), KTM, 3:30:00 +6:03 
20. Luciano Benavides (ARG), KTM, 3:48:47 +24:50 
23. Mario Patrao (POR), KTM, 3:54:20 +30:23 
27. Laia Sanz (ESP), KTM, 3:55:43 +31:46 

Provisional Standings after Stage Two – 2019 Dakar Rally

1. Joan Barreda (ESP), Honda, 4:23:14 
2. Matthias Walkner (AUT), KTM, 4:24:45 +1:31 
3. Ricky Brabec (USA), Honda, 4:24:47 +1:33 
4. Pablo Quintanilla (CHI), Husqvarna, 4:26:31 +3:17 
5. Toby Price (AUT), KTM, 4:27:47 +4:33 
Other KTM 
6. Sam Sunderland (GBR), KTM, 4:30:32 +7:18 
19. Luciano Benavides (ARG), KTM, 4:53:44 +30:30 
26. Laia Sanz (ESP), KTM, 5:05:57 +42:43 
31. Mario Patrao (POR), KTM, 5:09:09 +45:55