Peter Hickman auf TRIUMPH Daytona zum Supersport-Sieg bei der Isle of Man TT 2019
Wieder einmal war ein Dreizylinder von TRIUMPH auf der Isle of Man nicht zu schlagen: Auf einer TRIUMPH Daytona 675 holte sich Peter Hickman einen wahrhaft historisch zu nennenden Sieg beim zweiten Supersport-Rennen der Tourist Trophy 2019.
Hickmans vierter Erfolg bei einem TT-Rennen war hart erkämpft: Im Rahmen der auf zwei Runden verkürzten Renndistanz auf dem über 60 km langen "Mountain Course" gab es nicht weniger als vier Führungswechsel. Nach Hickman und seiner Daytona des Smiths Racing Team wurde sein Erzrivale Dean Harrison Zweiter, den letzten Podiumsplatz holte sich James Hillier. Gary Johnson sicherte sich mit einer weiteren Daytona 675 einen starken achten Platz.
 
Es war bereits der zweite Supersport-Erfolg bei der diesjährigen Tourist Trophy für den 32-jährigen Hickman, denn bereits am Anfang der vom Wetter gebeutelten Rennwoche fuhr er beim ersten Rennen dieser Kategorie als dritter über die Ziellinie.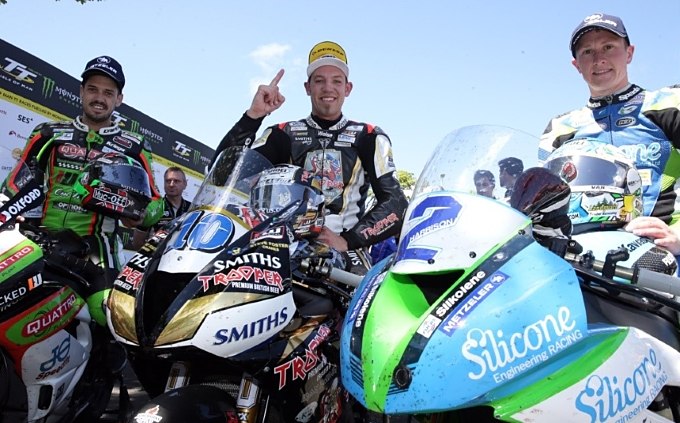 Entsprechend gut war seine Stimmung nach dem tollen Sieg im zweiten Rennen dieser Kategorie: "Wir haben sehr hart gearbeitet, um die Supersportklasse bei der TT zu gewinnen. Am Montag waren wir schon richtig nah dran. TRIUMPH hat uns dieses Jahr optimal unterstützt, und das hat letztlich den Unterschied gemacht. Das Bike war perfekt abgestimmt. Ich freue mich vor allem für mein Team, dass eine echte Top-Leistung gebracht hat!"
Publikation: Triumph