Vergangenes Wochenende fand das alljährliche Saisonhighlight und Abschluss der Trial Weltmeisterschaft, das "Trial of Nations", bei dem jedes Land seine besten 3 Fahrer im Team an den Start schickt, im tschechischen Sokolov nahe Karlsbad statt.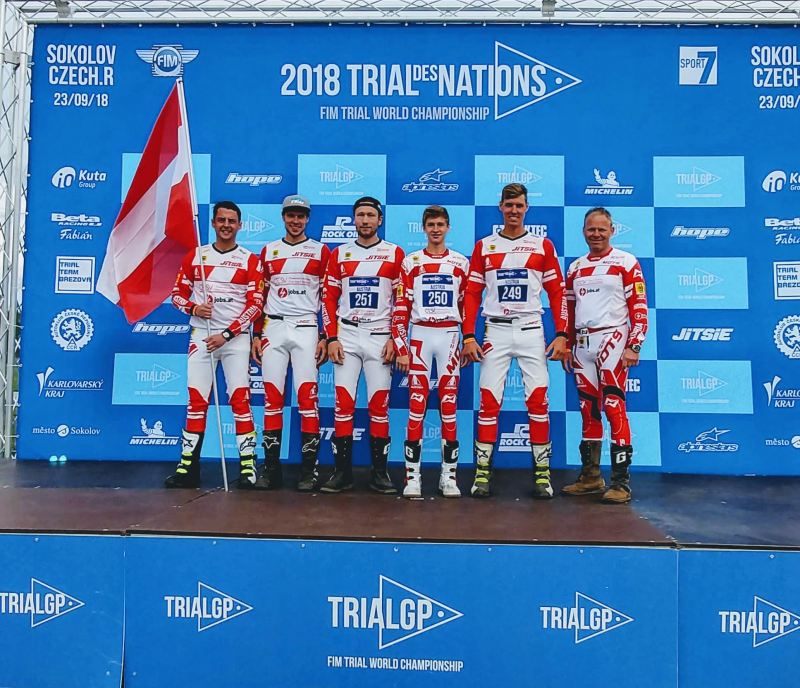 Die österreichische Mannschaft bestehend aus den Fahrern Jonas Widschwendter, Marco Mempör und Philipp Döller, den Betreuern Philipp Bertl und Mario Mempör und Teamchef Richard Rosenstatter, erreicht in einer Regenschlacht den historischen 3. Platz in der International Trophy. Es ist dies der erste Podiumsplatz für Österreich, in der 34jährigen Geschichte des "Trial of Nations". Von den 16 gestarteten Nationen musste man sich nur den mit Heimvorteil ausgestatteten Tschechen und dem Team der USA geschlagen geben. In der "Pro Class" mit noch schwierigeren Hindernissen, in der nur die 7 Top gesetzten Nationen starten, sicherte sich Trialnation Nummer 1, Spanien den Sieg. Österreich ist somit in den Top Ten der Welt angekommen.
Teamchef Richard Rosenstatter: "Es ist ein einmalig, damit hätten wir nicht gerechnet. Das Team hat perfekt zusammengearbeitet und die gute Stimmung in der Mannschaft hat den Grundstein gelegt. Der Regen kam uns entgegen und wir konnten als eines der wenigen Teams ohne Zeitstrafpunkte nach 5h das Ziel erreichen. Die Jungs haben alles gegeben als wir gemerkt hatten, dass wir ums Podest kämpfen, aber wir konnten es nicht glauben, als am Schluss dann wirklich die 3 auf den Bildschirmen stand. Das Niveau in Österreich steigt kontinuierlich, und so muss es mit konsequenter Jugendarbeit weitergehen!"
Photo Credit: FIM, TrialGP
Links:
www.facebook.com/TrialNationalteamAustria
www.otsv.at
www.austria-motorsport.at
www.fim-live.com