Matthias Walkners Wiedersehen mit dem Ort seines folgenschweren Sturzes 2016
Angesichts dieser nach wie vor enormen Renn-Distanz sind 6 Minuten und 34 Sekunden kein unüberwindbar großer Rückstand. 

Matthias Walkner hat sich als Tages-Sechster am Sonntag zurück in die Top3 der "Dakar"-Gesamtwertung gearbeitet. Besagte 6.34 Minuten fehlen ihm nach der 8. Etappe auf den nach wie vor führenden Franzosen Adrien van Beveren (Yamaha), der am Sonntag aber einiges an Guthaben eingebüßt hat. Gesamt-Zweiter ist der Argentinier Kevin Benavides (Honda), der 6.12 Minuten vor Matthias Walkner liegt. Knapp eine Minute hinter dem 31jährigen Salzburger liegt als Gesamt-Vierter nun der Australier Toby Price, Walkners Teamkollege im österreichischen "Red Bull KTM Rally Factory Racing Team". Den Tagessieg am Sonntag holte sich mit dem Franzosen Antoine Meo ebenfalls einer der KTM-Werkspiloten.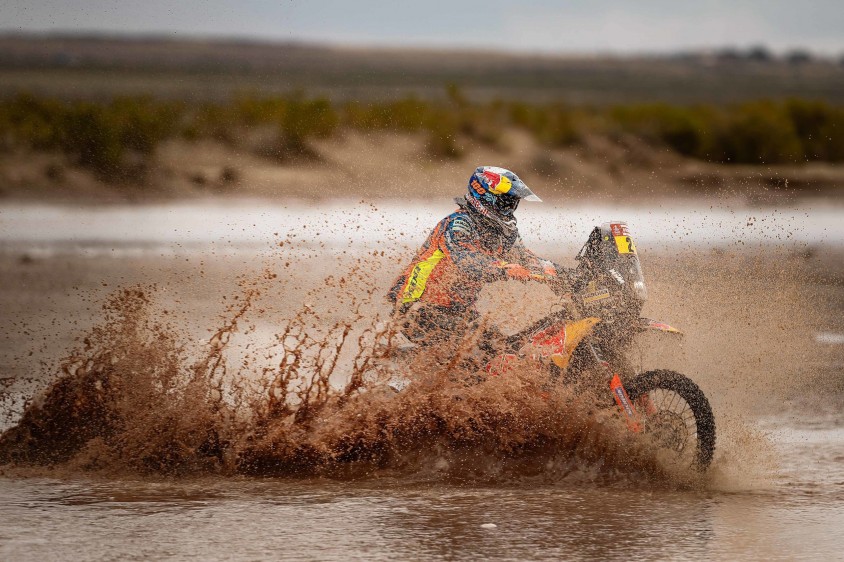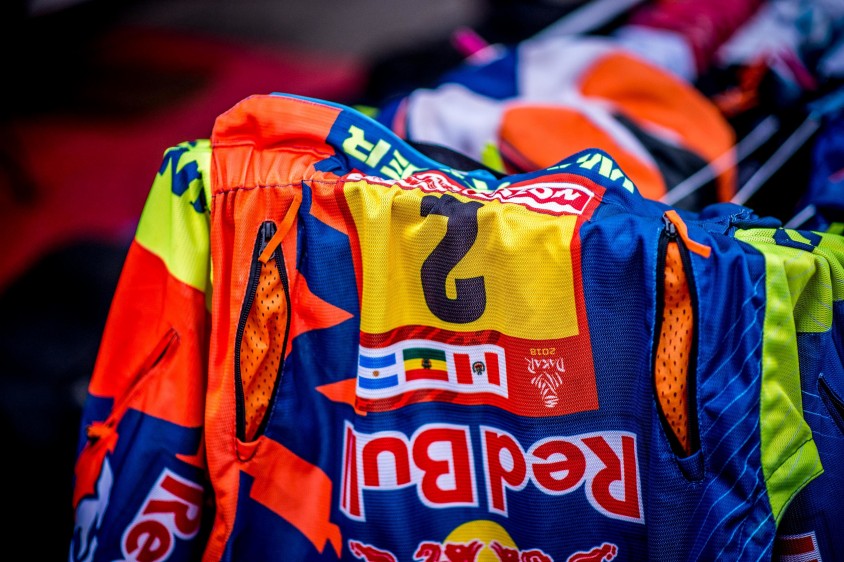 Matthias Walkner nach der 8. Etappe am Sonntag: "Endlich haben wir den zweiten Teil der Marathon-Etappe erledigt. Mit 498 Kilometern war das heute die längste Speciale der 'Dakar' in diesem Jahr. Es war eine ziemlich lässige Etappe. Aber mit fast sechs Stunden Vollgas auch ziemlich lang. Ein bisschen unangenehm war, dass ich den ganzen Tag alleine gefahren bin. Da ist es relativ schwer, sich permanent selbst ans Limit zu pushen und die Konzentration zu halten. Ich habe mich einmal ein wenig verfahren und habe da sicher zwei, drei Minuten liegen lassen. Ansonsten bin ich fahrerisch mehr oder weniger zufrieden. 

Der Start war übrigens genau an der Stelle, an der ich vor zwei Jahren so schwer gestürzt war. Bei Kilometer 16 oder 17 habe ich genau das Loch wieder gesehen, das mir damals zum Verhängnis wurde. Es war…. seltsam. Und ich habe mich irgendwie selbst gefragt, warum ich dieses Loch damals übersehen haben. Aber es ist schon tückisch. Ich habe es jedenfalls sofort wieder erkannt."  

Am Montag wird sich im Gesamtklassement wohl nichts verändern. Die über 754 Kilometer geplante 9. Etappe von Tupiza in Bolivien nach Salta in Argentinien wird neutralisiert geführt. Die Wettersituation sei sehr gefährlich, heißt es von Seiten der Organisatoren. Aus Sorge vor Unwettern und Überflutungen hat man daher die Sonderprüfung des Tages abgesagt.
Provisional Results Stage Eight – 2018 Dakar Rally

1. Antoine Meo (FRA), KTM, 5:24:01 
2. Ricky Brabec (USA), Honda, 5:25:09 +1:08 
3. Toby Price (AUT), KTM, 5:26:46 +2:45 
4. Kevin Benavides (ARG), Honda, 5:29:53 +5:52 
5. Stefan Svitko (SVK), KTM, 5:30:47 +6:46 
Other KTM 
6. Matthias Walkner (AUT), KTM, 5:31:01 +7:00
9. Laia Sanz (ESP), KTM, 5:38:16 +14:15 
13. Luciano Benavides (ARG), KTM, 5:42:45 +18:44 

Provisional Standings after Stage Eight – 2018 Dakar Rally 

1. Adrien van Beveren (FRA), Yamaha, 27:22:03 
2. Kevin Benavides (ARG), Honda, 27:22:25 +0:22 
3. Matthias Walkner (AUT), 27:28:37 +6:34 
4. Toby Price (AUT), KTM, 27:29:38 +7:35 
5. Joan Barreda (ESP), Honda, 27:30:04 +8:01 
Other KTM
6. Antoine Meo (FRA), KTM, 27:31:59 +9:56 
7. Stefan Svitko (SVK), KTM, 27:53:58 +31:55 
9. Gerard Farres (ESP), KTM, 28:07:55 +45:52 
13. Laia Sanz (ESP), KTM, 28:53:28 +1:31:25 
15. Luciano Benavides (ARG), KTM, 28:59:16 +1:37:15

www.dakar.com
PRESSE RED BULL
STRONG DAY FOR KTM AS MEO WINS STAGE EIGHTDakar Rally 2018 – Stage 8

The Red Bull KTM Factory Racing team have completed a very successful stage eight of the 2018 Dakar Rally. Antoine Meo claimed his second win in three stages, Toby price finished a very strong third and Matthias Walkner moved back up to third overall in the provisional standings following a sixth-place finish.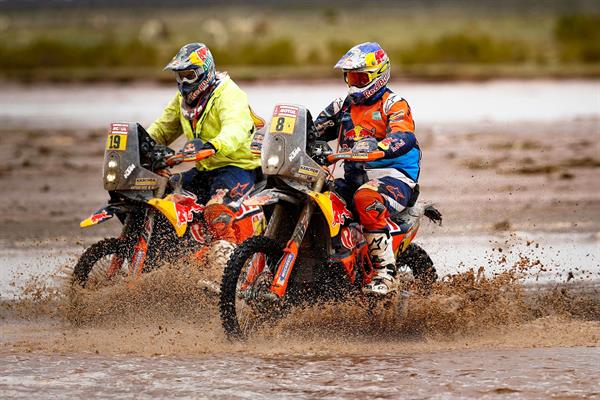 Stage eight has proven to be one of the toughest of the 2018 event. As the second leg of the rally's first marathon stage, riders were unable to receive any team assistance overnight and rode today's 498km timed special with day-old tyres. The wet and slippery conditions called for supreme technical skills on the bike, good navigation and yet more mental strength in order to complete another challenging stage.

Setting off ninth this morning at 6.39 AM, Antoine Meo was able to chase down the pack in front of him right from the start. Meo led on time through the first six waypoints with a small mistake then causing him to drop down to second. Pushing hard for the final 100km, the Frenchman took the win at the finish by over one-minute from runner-up Ricky Brabec.

Antoine Meo: "I am really happy with my performance today. Right from the beginning my plan was to push and try to regain some time on the leaders. I felt really good today, despite the conditions and the length of the special, I didn't make any mistakes. With tomorrow's stage cancelled it puts me in the unfortunate position of having to open Tuesday's stage in the dunes of Argentina. It is always a slight disadvantage to open stages like that, but I'll do my best and see where I can finish." 

Toby Price again showed why he is a former Dakar champion. The Australian used his experience and skill to maintain a consistent pace, despite the treacherous conditions, and placed a very creditable third at the line.

Toby Price: "It's been a really long marathon stage – yesterday was 430km and today was 490km – the two longest of the event. I'm feeling a little bit sore after racing for nearly 1,000km but apparently we have another rest day tomorrow due to the stage being cancelled. I'm not complaining, I could certainly use the time to recharge, but everyone gets the same break and will be fired up and ready to go again on Tuesday. All-in-all, I'm feeling good and the bike is awesome. I know the stages in Argentina are going to be tough and there are still a lot of kilometres to cover, but I'm in a good position and not had any issues. The idea is to just stay focused and keep doing what we've been doing." 

Starting sixth this morning, Matthias Walkner maintained his position for most of the stage. The solid ride was enough for Walkner to move back up to third in the provisional overall standings, just one-minute ahead of his team-mate, Toby Price. 

Matthias Walkner: "That was a really tough couple of stages. Yesterday we had a 300km liaison and the temperature was only two or three degrees. All the water on the timed special made it very dangerous to push as hard as I would have liked. Today the stage was not too bad, I lost a little time in one section, but managed to get that back at the end. The worst thing was for the entire 500km or so, I was riding on my own and that makes it difficult to push yourself to a good result. Nevertheless, I didn't make any mistakes and my finish was good so I am happy. Looking forward to Argentina, hopefully the stages will be fast WRC-style pistes – I do a lot better on that type of terrain and I think I can really start to push then." 

The KTM Factory Racing pairing of Laia Sanz and Luciano Benavides had their best day of the rally so far. Sanz again excelled in the wet, muddy conditions of the special stage to post the ninth fastest time. The result jumps the multiple world champion up to 13th in the provisional overall standings.

Laia Sanz: "Yesterday was a really tough, physical day. Conditions were really bad, but I was doing ok until I got stuck in the mud. Today went a lot better, I had a nice rhythm and rode a very good stage. I managed to catch some of the riders in front and so I knew I was doing well. I just pushed as hard as I could safely right to the finish. To get a top-10 result at the end of a marathon stage like that feels really nice and has given me some good confidence going into Argentina." 

Luciano Benavides, after a tough stage seven, really came into his own on today's special. The Argentinian, just one day away from riding in his home country, fought to an excellent 13th position - his best result of the rally. Like his team-mate Sanz, Benavides also moves up the standings, placing 15th overall and regaining his position as the fastest rookie. 

Luciano Benavides: "The last couple of days have been really tough, 1,000km in those conditions is never going to be easy. Yesterday I had a couple of issues with the bike, but I was able to fix it by myself at the bivouac. I lost some time at the beginning of today's stage but managed to get going and was able to push quite hard for the whole day. I am happy to have finished the stage without making any big mistakes and now I'm looking forward to heading for my home city tomorrow." 

Stage nine of the 2018 Dakar Rally was due to take competitors from Tupiza, Bolivia across the border into Salta in north western Argentina. The planned route included a lot of river crossings but due to the heavy rainfall of recent days leading to localised flooding, the stage has been cancelled. Riders are scheduled to recommence racing on Tuesday with stage 10. 
 
PRESSE KTM
MR/LF