Matthias Walkner 2. Platz bei der 2018 Desafio Inca Rallye
Matthias Walkner von Red Bull KTM Factory Racing hat den dritten und letzten Tag der Desafio Inca-Rallye 2018 auf dem vierten Platz erfolgreich beendet, was seinen zweiten Platz in der Gesamtwertung festigen konnte.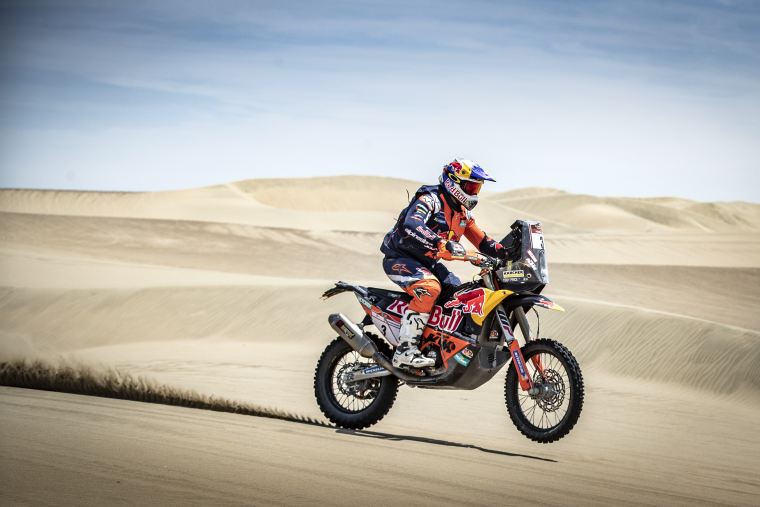 Toby Price fuhr eine großartige dritte Etappe und fuhr die zweitschnellste Zeit, dicht gefolgt von Teamkollege Sam Sunderland. KTM Factory Racing Junior-Mitglied Luciano Benavides beendete den Tag als 16..
Matthias Walkner: "Today was definitely the most fun of the rally. We started three minutes apart, which meant we weren't all grouped up like the previous stages. I started second so I only had one track in front and had to rely on my own navigation for most of the day. The pace was really fast, but I managed my road book well and was pleased to post a good result even though we were chased down by the guys behind. Overall, the rally has been very encouraging – with the next Dakar being held in Peru it's good to get time on the bike and learn how to ride the dunes. Second overall has given me a lot of confidence going into Morocco, and onto Dakar next year.
Toby Price: "Day three went well, I was glad to get a good finish on the final day. Thankfully we were able to resolve the problem we had from yesterday and had a clean run through today. The overall result for the rally isn't quite what we wanted but the goal when we came here was always to get time on the bike in the dunes and concentrate on learning the navigation through the area. From here we'll concentrate on Morocco and hopefully get a good result at the final round of the world championship." 
Sam Sunderland: "I took an extra pain killer this morning and it helped me get through the day. I was able to start with Toby and it was good to be able to use him as a reference. I feel really happy about the three days here, it's been tough but I knew from the beginning I wasn't here to fight for the win. Just to be able to get some good kilometres on the bike is useful and it's nice to finish off the rally with a good result today. The bike is working really well and the team have been great. I'm looking forward to getting fully fit now and back on it for Morocco."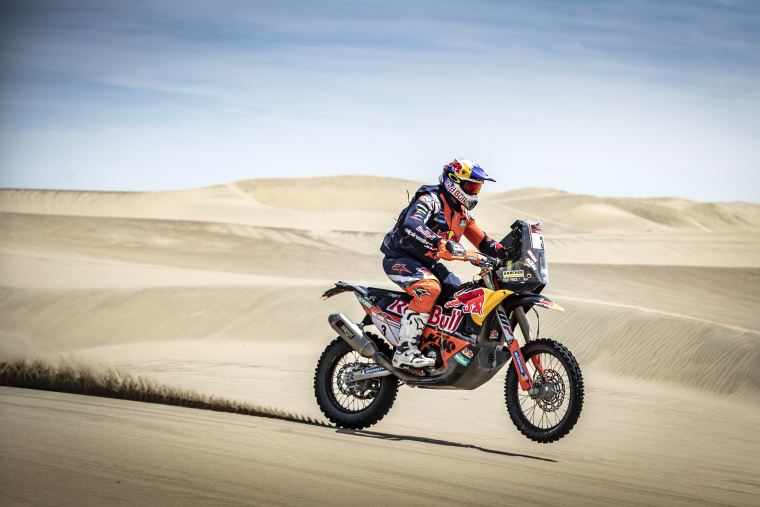 Results - Stage 3 2018 Desafio Inca 

1. Paulo Goncalves (PRT), Honda, 1:55:08 
2. Toby Price (AUS), KTM, 1:57:10 +2:02 
3. Sam Sunderland (GBR), KTM, 1:57:24 +2:16 
4. Matthias Walkner (AUT), KTM, 1:58:09 +3:01 
5. Ricky Brabec (USA), Honda, 1:58:24 +3:34 
Other KTM
16. Luciano Benavides (ARG), KTM, 2:18:58 +23:50 

Provisional Final Standings – 2018 Desafio Inca Rally after 3 of 3 stages

1. Paulo Goncalves (PRT), Honda, 10:08:13 
2. Matthias Walkner (AUT), KTM, 10:11:4 +2:51 
3. Andrew Short (USA), Husqvarna, 10:16:37 +10:02 
4. Ignacio Cornejo (CHI), Honda, 10:18:15 +10:02 
5. Adrien van Beveren (FRA), Yamaha, 10:19:17 +11:04 
Other KTM
9. Toby Price (AUS), KTM, 10:37:22 +29:09 
13. Luciano Benavides (ARG), KTM, 12:24:46 +2:16:33