Alfredo Gomez rettet Colton Haaker den Superenduro Titel 2019. Haaker verliert das Bewusstsein, Cody Webb zeigt ihm den Finger, Gomez wird disqualifizert und bekommt den Shitstorm den er offenbar verdient.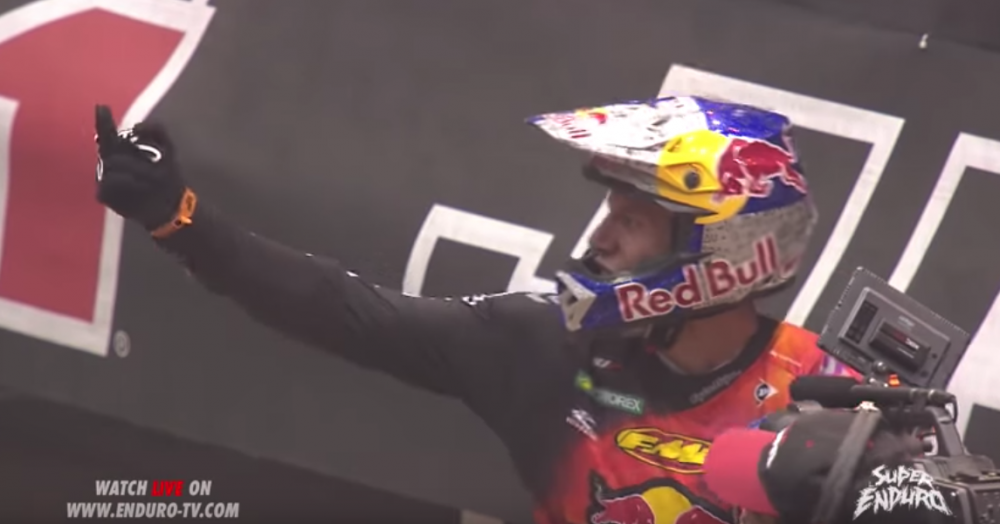 Auszüge der Motorsport Community:
Reached your goal, lost most of your fans
When you getting old and riding 💩, you need to save your place in husqvarna team only in this way
Probably be the lowest point of your racing career ! Not cool Alfredo
It was not sports fair play. Shame on you.
You should be ashamed of yourselves. Not in the spirit of racing
Championship is not won by running a guy off the track. Poor form!!
 I am a big fan, but sir, karma will get you.
Both losers. Moto is not a team sport
Total jerk. You solidified why I never respected you.
If you have to cheat to win then you never really won. Congratulations to Cody Webb, the peoples champion.
Cody Webb: "Obviously I'm disappointed with the final championship result tonight, I felt I rode really good out there today and deserved the title. The night started off well with a good time in superpole and then in the restarted first final I took my time, rode smooth and took the win by a good margin. I am kicking myself now for the mistakes I made in the second final, I got caught up in traffic a few times, but still got second – I knew then I would have to really go for it in the last one. I got off the line well in the third final and set about catching Colton. After I got past him, I just stayed smooth and could see he was struggling. I'm happy because I did my best, won that third final and believe the championship should have been mine. It's a bitter pill to swallow, but I'll learn from it, and come back even stronger next time." 
Alfredo Gomez: "SOMETIMES RACES/CHAMPIONSHIPS ARE WON AS A TEAM EFFORT AND TODAY WAS LIKE THIS, SORRY FOR THE MESS WITH SOME GUYS BUT THE GOAL WAS THAT HUSQVARNA AND COLTON WON A CHAMPIONSHIP AND WE MADE IT!"