Verletzungs-Update: Jonny Walker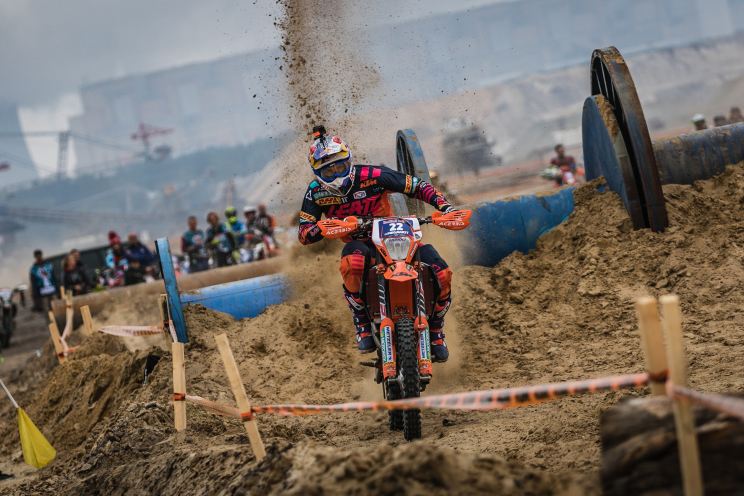 Während seiner Teilnahme an Red Bull 111 Megawatt in Polen stürzte Jonny Walker schwer, während er um den Sieg bei der fünften Runde der World Enduro Super Series kämpfte.
Nach dem schweren Einschlag in der zweiten Runde, wurde Jonny schnell ins nahe gelegene Krankenhaus in Belchatow gebracht, um ärztliche Hilfe zu bekommen.
Die Untersuchungen zeigten Brüche an beiden Knochen im unteren linken Arm, nahe am Handgelenk, einen gebrochenen Finger an seiner rechten Hand, eine ausgerenkte linke Schulter und ausgedehnte Schnitte und Prellungen an seiner Brust. Am Sonntagabend, dem 9. September, wurde er operiert und ein externer Stabilisator an seinem linken Unterarm angebracht, wobei eine innere Platte ebenfalls an seinem Finger angebracht war, um die Fraktur zu stabilisieren.
Es wird erwartet, dass Jonny am Montag, den 10. September, aus dem Krankenhaus in Polen entlassen wird und nach Barcelona, ​​Spanien reist, um einen Spezialisten für weitere Konsultationen zu visitieren.
Zu diesem Zeitpunkt wünscht das Red Bull KTM Factory Racing Team,  Jonny eine vollständige und schnelle Genesung und möchte ihre Wertschätzung und vielen guten Wünsche weitergeben, die sie über soziale Medien auch zum Ausdruck gebracht haben.
Danke auch an das Red Bull 111 Megawatt medizinische Personal.
Original Text, KTM Factory Racing:

Injury Update: Jonny Walker
During his participation in Red Bull 111 Megawatt in Poland Jonny Walker crashed heavily while pushing for victory at round five of the World Enduro Super Series. Following the heavy impact on lap two of three, Jonny was quickly taken to the nearby hospital in Belchatow for medical attention.
Examinations revealed fractures to both bones in his lower left arm, close to the wrist, a broken finger on his right hand, a dislocated left shoulder and extensive cuts and bruises to his chest. Undergoing surgery on Sunday evening, September 9, a plate and an external stabiliser were fitted to his left lower arm with an internal plate also fitted to his finger to stabilise the fracture.
It is expected that Jonny will be discharged from hospital in Poland on Monday, September 10, and will travel to Barcelona, Spain to see a specialist for further consultation.
At this time, Red Bull KTM Factory Racing wish Jonny a full and speedy recovery and would like to pass on their appreciation to the many well wishes that have expressed their support via social media.
Thanks also go out to the Red Bull 111 Megawatt medical staff.