Team Deutschland gewinnt den Freestyle of Nations der NIGHT of the JUMPs
Nach 12 Jahren feierte die extremste Freestyle Motocross Sportserie der Welt ihre Rückkehr nach Franken. Zum Comeback gab es das neue Format des Freestyle of Nations zu bestaunen.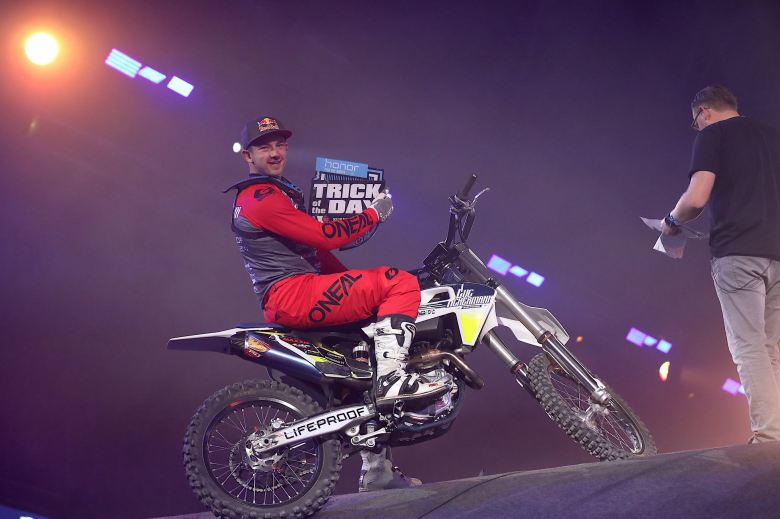 Drei Teams traten beim zweiten Nationen-Wettbewerb gegeneinander an, die in verschiedenen Contests Punkte für die Mannschafts-Wertung sammelten. Mit dem Team Australien war natürlich der Titelverteidiger aus dem letzten Jahr dabei. Team Deutschland wurde von Luc Ackermann angeführt. Erstmals im Mannschaftswettbewerb ging Frankreich an den Start. 

Jeder der neun Sportler legte einen Freestyle Run mit sieben Tricks plus Double Up hin. Bis zu 100 Punkte konnten die Fahrer hier für ihre Nation einfahren. In 3er Heats gingen die Fahrer an den Start. Heat 1 gewann Thomas Wirnsberger vor Jamie Squibb und Romain Izzo. In Heat 2 ging der deutsche Local Hero Luc Ackermann an den Start. Angepeitscht von der ausverkauften Arena, holte er einige seiner fettesten Tricks heraus: Long Distance 360, Holygrab, massiver Ruler Flip und im Double Up den Double Backflip. 99 von 100 möglichen Punkten brachten die Zuschauer zum Kreischen und Team Deutschland in Front. Der Sieg im dritten Heat ging an Ryan Brown.

Zum Honor Best Trick Contest traten die Teamleader für jede Nation an. Dabei packte Pat Bowden den Rulerflip aus. Romain Izzo setzte mit seinem Frontflip noch eine Schippe drauf. Aber selbst das sollte zum Sieg nicht reichen, da Luc Ackermann erneut einen perfekten Double Backflip unter das Arenadach hämmerte und den Best Tricks Wettbewerb für Deutschland gewann. Damit setzte sich die deutsche Mannschaft an die Spitze und triumphierte beim dritten Freestyle of Nations in der Geschichte der NIGHT of the JUMPs.