Masters of Dirt Klagenfurt Ticket special!
masters fof dirt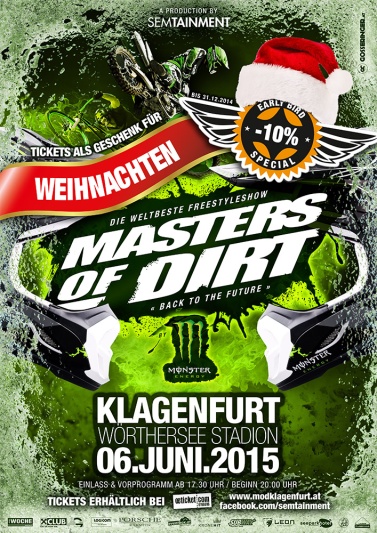 FreestyleShow MASTERS OF DIRT
im Juni 2015 im WÖRTHERSEE STADION
Das Open Air Spektakel der Superlative verbindet Extremsport und Entertainment in einer atemberaubenden Show. Bis 31.12. mit EARLY BIRD TICKET SPECIAL!
Kärntner Eventprofis holen die int. weltbeste Extrem-Sport-Show MASTERS OF DIRT am 06. Juni 2015 ins WÖRTHERSEE STADION und damit einen spektakulären Großevent nach Klagenfurt.
Das WÖRTHERSEE STADION wird brummen, beben und brennen.
Das Wörthersee Stadion ist sicher die modernste und wohl auch die schönste Arena Österreichs, aber es wartet noch auf seinen Durchbruch als Event-Location im Alpen-Adria-Raum. Zumindest bis jetzt, denn mit MASTERS OF DIRT BY MONSTER ENERGY kommt am 06. Juni 2015 erstmals ein richtiger Großevent in das fertiggestellte Stadion. Regelmäßig ausverkaufte Hallen und Stadien auf der ganzen Welt zeigen, dass M.O.D.-Erfinder Georg Fechter den Nerv der Zeit getroffen und die Veranstalter von SEMTAINMENT das Potential der Klagenfurter Location erkannt haben. Der Süden wird ROCKEN!
 ZIRKUS war gestern. M.O.D. ist Entertainment am Puls der Zeit.
Es ist schlicht die wildeste Freestyle Show der Welt: MASTERS OF DIRT BY MONSTER ENERGY verbindet spektakulärsten Extrem-Sport mit grandiosem Entertainment! Die Freestyle-Weltelite rast, springt, fliegt und überschlägt sich mit Motocross-Bike, BMX, Mountainbike, Quad, Schneemobil und Minibike durch die tobenden Arenen dieser Welt. Gewaltige Rampen katapultieren die Fahrer in den Nachthimmel während rundherum ein atemberaubendes Showprogramm aus Pyrotechnik, Lichteffekten, Beatboxing und fetten Sounds tobt.
Die besten Athleten der Freestyle-Szene zeigen für MASTERS OF DIRT BY MONSTER ENERGY Tricks die gleichzeitig die Grenze der Physik und des Wahnsinns ausreizen. Die Show bietet den Fahrern die Möglichkeit ihre Kreativität frei zu entfalten und so spornen sie sich gegenseitig zu immer wilderen Tricks an, um die Fans zu begeistern. Denn sie wissen:  "NO RISK, NO REWARD!" 
FACTS:
Tickets gibt es bereits ab 26,55 Euro, da bis 31.12.2014 das RN3 EARLY BIRD TICKET SPECIAL läuft!  (= MINUS 10% BONUS)
Die Tickets bestellt ihr gleich am besten bequem über E-Mail an
gisela@semtainment.at
oder via Telefon unter 0463 28717060 mit dem Kennwort RN3 
MASTERS OF DIRT BY MONSTER ENERGY
www.modklagenfurt.at
www.facebook.com/semtainment