EPSTEIN BARR VIRUS CAUSES BLAZUSIAK TO DELAY RACING UNTIL FIM SUPERENDURO WORLD CHAMPIONSHIP
Red Bull KTM Factory Racing's Extreme and SuperEnduro specialist Taddy Blazusiak, diagnosed with the debilitating Epstein Barr virus after the 2015 Erzbergrodeo, has announced he will forego competing in international Extreme Enduro events until December.


Blazusiak is a five-time winner of the Erzbergrodeo's grueling Red Bull Hare Scramble, a five-time AMA EnduroCross Champion, as well as having conquered numerous other Extreme Enduro events. He will now concentrate on recovering from the virus and work on being fit for the 2015-2016 FIM SuperEnduro season, starting in Lodz, Poland on December 5, 2015.

Blazusiak has been a trailblazer in the sport of Extreme and SuperEnduro since he first won the Red Bull Hare Scramble at the 2007 Erzbergrodeo. He apparently began to feel unwell in the closing stages of last season's SuperEnduro series and attributed his fatigue to his heavy racing schedule. 


Taddy Blazusiak: "Getting EBV has been horrible – racing bikes is what I do, so when I'm unable to do that it's tough. As an athlete it's incredibly difficult to understand what's happening with EBV. We understand physical injuries. We understand the process of operations and recovery. But this is has been so different. Thankfully, I'm starting to feel better but it makes no sense to rush things now. I have to say a huge thanks to Dr. Klemens Trieb and his team at the Hospital in Wels, Austria for helping me. Together with my sponsors we've decided that I will return to racing at the start of the SuperEnduro series in December."


The decision not to race until the end of the year means that Blazusiak not compete in the second edition of the Red Bull Megawatt 111 (September 5-6) in his home country of Poland, although he will be present at the event. He will also miss the three-day Red Bull Sea to Sky in Kemer, Turkey, on October 2-4.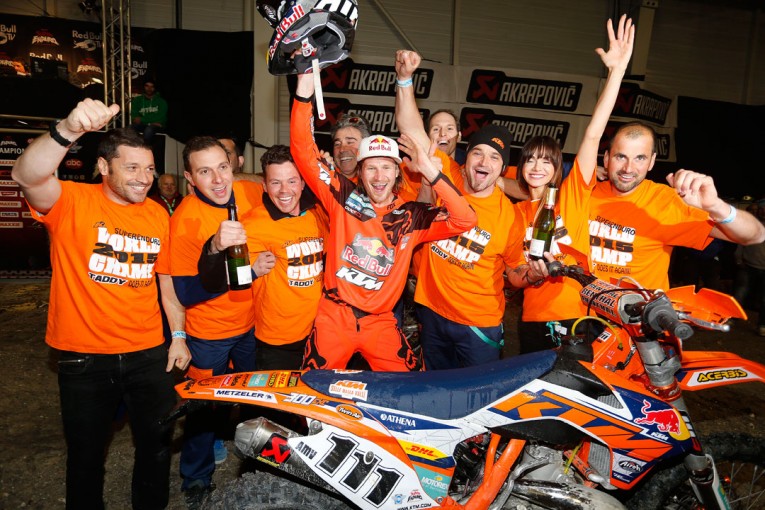 Blazusiak confirmed that although opting not to race until December, he is now recovering from the effects of the virus and expects to be able to resume training shortly. "I'm using my time to give back to my sponsors, and looking forward to returning to racing," he said in a statement from his manager.
TEXT / FOTO: KTM