MotoGP
Red Bull KTM Factory Racing had a target at the half way point of 2017 to get a top 10 finish in the second half of the season: They did just that at the very first race back from the summer break, and in total have been inside that target top 10 no less than seven times. Bradley Smith took 11th today and crucial points in the manufacturers championship to take KTM to fifth in the table of six top flight manufacturers who battle in the premier class of MotoGP.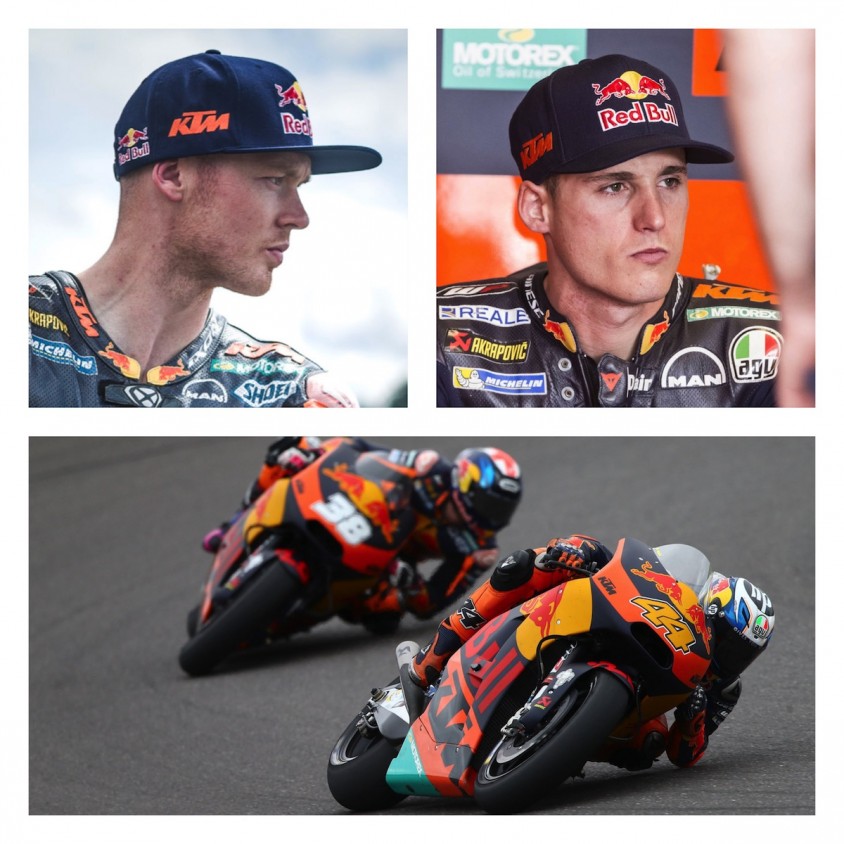 Results Race MotoGP Comunitat Valenciana - Ricardo Tormo 2017 
1. Dani Pedrosa (ESP), Honda, 46:08.125 min (30 laps)
2. Johann Zarco (FRA), Yamaha, +0.337 sec
3. Marc Marquez (ESP), Honda, +10.861
4. Alex Rins (ESP), Suzuki, +13.567
5. Valentino Rossi (ITA), Yamaha, +13.817
11. Bradley Smith (GBR), KTM, +30.835
DNF Pol Espargaro (ESP), KTM, +5 laps
DNF Mika Kallio (FIN), KTM, +28 laps

Final Standings MotoGP 2017 after 18 of 18 races
1. Marquez, 298 points (2018 MotoGP World Champion)
2. Andrea Dovizioso (ITA), Ducati, 261
3. Maverick Viñales (ESP), Yamaha, 230
4. Pedrosa, 210
5. Rossi, 208
17. Espargaro, 55
21. Smith, 29
24. Kallio, 11

Final Standings MotoGP Constructors 2017
1. Honda, 357 points
2. Yamaha, 321
3. Ducati, 310
4. Suzuki, 100
5. KTM, 69
6. Aprilla, 64

Final Standings MotoGP Team 2017
1. Repsol Honda Team, 508 points
2. Movistar Yamaha MotoGP, 438 
3. Ducati Team, 398
4. Monster Yamaha Tech 3, 258
5. Octo Pramac Racing, 188
6. Team Suzuki Ecstar, 130
7. EG 0,0 Marc VDS, 117
8. LCR Honda, 112
9. Pull&Bear Aspar Team, 107
10. Red Bull KTM Factory Racing, 84
11. Reale Avintia Racing, 73
12. Aprilia Racing Team Gresini, 67

Results Race Moto2 Comunitat Valenciana - Ricardo Tormo 2017
1. Miguel Oliveira (POR), KTM, 43:15.843 min (27 laps)
2. Franco Morbidelli (ITA), Kalex, +2.154 sec
3. Brad Binder (RSA), KTM, +4.181
4. Francesco Bagnaia (ITA), Kalex, +11.181
5. Alex Marquez (ESP), Kalex, +12.146

Final Standings Moto2 2017 after 18 of 18 races
1. Morbidelli, 308 points
2. Tom Luethi (SUI), Kalex, 243
3. Oliveira, 241
4. Marquez, 201
5. Bagnaia, 174
8. Binder, 125

Final Standings Moto2 Constructor 2017
1. Kalex, 427 points
2. KTM, 266
3. Suter, 118
4. Speed Up, 117
5. Tech 3, 103

Results Race Moto3 Comunitat Valenciana - Ricardo Tormo 2017
1. Jorge Martin (ESP), Honda, 40:02.193 min
2. Joan Mir (ESP), Honda, +3.760 sec
3. Marcos Ramirez (ESP), KTM, +3.877
4. Romano Fenati (ITA), Honda, +3.953
5. Enea Bastianini (ITA), Honda, +3.999
KTM
6. Juanfran Guevara (ESP), KTM, +4.940
7. Dennis Foggia (ITA), KTM, +4.735 (plus one position exeeding track limits)
12. Bo Bendsneyder (NED), KTM, +6.633
14. Niccolo Antonelli (ITA), KTM, +16.100

Final Standings Moto3 2017 after 18 of 18 rounds
1. Mir, 341 points
2. Fenati, 248
3. Aron Canet (ESP), Honda, 199
4. Martin, 196
5. Fabio Di Giannantonio (ITA), Honda, 153
KTM
8. Ramirez, 123
9. Andrea Migno (ITA), KTM, 118
10. Phillip Oettl (GER), KTM, 105
15. Bendsneyder, 65
18. Antonelli, 38

Final Standings Moto3 Constructor 2017
1. Honda, 445 points
2. KTM, 248
3. Mahindra, 43
4. Peugeot, 26
 
Pol Espargaro had a rare tumble today as did Mika Kallio in the race, but they did so on a day when many had big offs. For Espargaro though, his highlight this year was a ninth in Brno and a sixth on the grid in Australia. Kallio's best was a tenth in Spielberg during one of his four wildcard appearances while Smith's racing best was tenth in Misano and Australia.
The team now has five days of testing at Valencia and Jerez with the KTM RC16 before the winter break and the resumption of testing next year before the first race in Qatar on March 18th.

Smith: "That as a special day and to be able to overcome Aprilia was very special for me. I went head to head with Aleix (Espargaro), giving it everything I could to ruffle his feathers a little and that seem to work. I did my job and I kept the pressure on. The race was good as I hit my marks all I could and hold a mid-32 lap time, then it was a case of survival as the tyres went away with others losing the front. Another very close to top ten finish today keeps our top 11 every race since Brno so roll on the work for the tests prior to the break; 2018 is not far away!"
Espargaro: "We must be proud and happy of what we have done this year. Overall we've had a good year as we finished much higher than where we started so the progression this year has been unbelievable. No one expected where we were going to finish so I'm so proud of the guys working here at the track and the team at the factory in Austria developing this bike. This is so important for us. Sure, we finish the season today but next season starts tomorrow with testing so we have new parts and new ideas to do and this makes everyone pumped up, so let's go for 2018 and let's aim for another step up."

Kallio: "When we started the third lap going into the second corner and I braked normally but suddenly I lost the front without any warning. I'm fine but it's sad to finish the season like this as I wanted to bring some points to KTM, so now we'll enjoy the evening together. During the season the steps we did were amazing and when we started to come close to the top ten this was something some others in the paddock did not expect but it was then other teams started to look at us. Thanks so much from my side of the garage as this test team has been working really well testing and racing – it was not easy jumping into the race mood and race weekends but they did a great job without any mistakes so it was a pleasure to race with KTM again."
Mike Leitner (Team Manager MotoGP): "We all our proud of this first KTM MotoGP season, especially the second part of the year. I must say once more thanks to all the effort from so many individuals, especially the riders who've pushed hard but today it was Bradley who scored the points to get us fifth in the manufacturers championship. Of course it wasn't great Pol had to start from the pit lane but that's a reason of the pace of our development with the new chassis. Mika tumbled off but many others went down today so it wasn't easy. Now we focus on a good winter test and look to 2018."

Moto2
Valencia saw a stellar finish to the debut season of KTM in Moto2 with the third win from three races as Miguel Oliveira hit the top step of the podium once more to make it a hat trick of wins through Australia, Malaysia and Valencia. His consistency throughout 2017 has resulted in an incredible 15 top ten finishes from 18 races with the all new KTM Moto2 bike, the highlights of which were pole and second at the second race and the Australia and Malaysia wins at tracks the bike had never been to before.
 
Team mate Brad Binder took his third podium is an many races with third place too making it a stunning finish to the season. Indeed, the Red Bull Ajo KTM team have scored 131 points from the available 135 over the last three races.
 
Oliveira had already cemented his third place in the Championship before today's Grand Prix, but ultimately finished a tantalising two points back of second place overall.
Oliveira: "It was a dream final Grand Prix. I came to this race in Valencia with the sole intention of having fun and we achieved that; I am very happy with this result. We would never have imagined that we could put together a run of three consecutive victories. I cannot thank the team and KTM enough for all the effort they have made throughout the season. It has been a very good season for us and I'm sure that next year we can do even better and fight for the title – which should be the goal."
Binder: "I am very happy to be back on the podium. Unfortunately I made some mistakes during the race, but you learn from everything. I want to congratulate Miguel (Oliveira) and Franco (Morbidelli), because they did an incredible job both today and throughout the season. It's an incredible feeling to think about how we started out in Qatar, finishing the race 20th and 34 seconds behind the winner, and to now see that we have taken three consecutive podiums. We have undergone an incredible evolution over the course of this year. Every time I got on the bike I learned something, I learned how to handle the KTM better and now I have almost mastered it perfectly. I look forward to seeing what next year brings!"

Aki Ajo (Team Manager Moto2): "This end to the season in Moto2 has been incredible, and we couldn't have asked for more. Three wins and three further podiums, in three races. I have no words to describe it. None of us could have expected this; I don't know how to express how grateful I am to everyone. We have to thank the riders, the staff, KTM, Red Bull and all the partners. Without them we could not be where we are. We are all very motivated for next year, we have a great challenge ahead and we face it with great enthusiasm."
 
Moto3
It was a Spanish lockout of the Moto3 podium with Marcos Ramirez upholding KTM's honour with a superb third position while wildcard and Junior Moto3 World Champion Dennis Foggiatook a brilliant seventh on only his third GP appearance on the KTM RC250 GP as he beds himself in to being a regular Grand Prix Rider next year.
 
Red Bull Ajo riders Bo Bendsneyder and Niccolo Antonelli were an uncharacteristic 12th and 14th today after podiums over the past two season for Bo and a podium only three races ago for Niccolo.
Ajo: "The positive thing about the last Moto3 race of the year is that both riders finished the race and we took points, although of course we would have liked to have placed higher. Especially in Bo (Bendsneyder)'s case, this weekend he had the potential to be in the fight for the top positions, but he lost a bit at the beginning of the race and at this circuit we lack a bit of acceleration on the straights. If we stop to analyse it, then it's likely his height and weight are the causes. I want to thank both riders and the team for all their work, and all the partners for making this 2017 season possible. Tomorrow we will begin motivating ourselves for the next campaign."

PHILIPP GRÜNBERGER  
PR MANAGER MOTOGP
Redaktion Motorradreporter